Autumn Lipsticks
This is part ONE of FOUR.
Each review contains 5 swatches & reviews
I love the change of seasons; and one of my favourite seasons is Autumn (Fall to my international readers). The palette Mother nature provides is mesmerizing. Gold's, rust, reds, oranges….deep colours for a season that transitions us from the buzz or the summer to the season of family and love (winter) and the potential of new starts (New Year). For us in the UK it also signifies the new academic year which is full of anticipation for a new start. As someone that works with the academic calendar the new season also means:
Darker mornings before work
Knee high boots (Yes!)
Layering
Wardrobe re-jig to accommodate the colder months
New lipstick season!
So as we know I love nothing more than red lipsticks. RED is the new black. RED. I cannot get enough of red and even in autumn I manage to sneak in cooler reds (usually matte in finish). But I do like berry, deeper shades. Vampy shades. Yes that's right those gothic inspired shades. Lipsticks is my 'thing' when it comes to cosmetics. And deeper shades are the ultimate Autumn complimentary cosmetic. I also change my skin care and foundation during cooler months.
So I have chosen twenty Autumnal shades that I have swatched and reviewed too.
NOTE: for those that were asking about my skin shade I'm classed as 'WHEAT' on the Boots colour match charts.
Cost point of the lipsticks:
I decided to not swatch and review any lipstick above £9.99 price band. This was a decision I took to explore the 'budget' brands available easily to us in the UK.
NOTE: I apologise to my international readers that may struggle to find certain shades or brands. EBay is a great place to find independent sellers that offer a lot of the lipsticks I've reviewed for this article.
For the purpose of swatching I lined by lips with a clear lip liner to avoid staining. This was done for all the swatches.
PLEASE NOTE: all photos were taken in natural light. The shade of lipstick will vary on you depending on the colour of your natural lips. I used a clear lip liner which is why my lips don't look like the colour of the lipstick in the actual casing.
You can use a concealer or foundation to line your lips instead of a lip liner. This works if you want to achieve a more 'real' like for like look compared to the tone of the lipstick.
How they were tested:
I ate, drank and went about my daily day whilst wearing these lipsticks.
So without further ado let's start reviewing these dark jewel like gems.
1) Make up Revolution: one of the best brands in my opinion to have surfaced in recent years in the beauty industry. The quality of their range is superb. Superdrug is one of their stockists which makes their range easy to come by. Prices start as little as £1.00 for a lipstick. There's plenty of dupes to be found. They have a great range of palettes (from eyeshad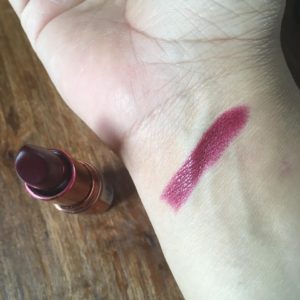 ows to highlighters) there's something for everyone.
So the lipstick I tried was from the Rose Gold collection (that's the rose gold bullet packaged lipsticks) costing £3.00. Diamond life is a deep purple/berry colour that is excellent for building up. One layer would be great for a lunch and applying more layers would build up a dramatic night time look.
The lipstick is light and easy to apply. It went on easily and stayed put very well needing a bit of a touch up post lunch. It's beautiful colour that in my opinion is versatile (for both day and night). The packaging is beautiful.
This stands to be one of my favourite shades for Autumn and beyond it gets a 5/5 for me.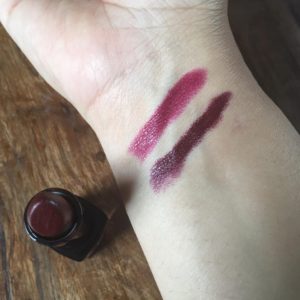 2) W7 Berry shades Viva La Berry in shade BLACKBERRY 
The W7 is a budget brain where you can find many dupes for the high end rivals. Affordable and readily available in discount stores across the UK you can also find this brand on Amazon and on eBay. Prices will vary but you can pick up this shade for just under £3.00 on eBay.
The Berry range was introduced approximately 2 years ago and features a range of berrylicious shades to suit most if not all skin tones. The packaging is nice, and won't make your dressing table ugly.
A creamy, deep gothic berry shade that doesn't dry out the lips (very moisturising with the right amount of sheen). It was easy to apply and colour was easy to build up. However the lipstick didn't stay on very well. By lunchtime I needed to apply another layer.
Overall feel for this lipstick is it's a lush colour and affordable as an addition to your lipstick itinerary.
3/5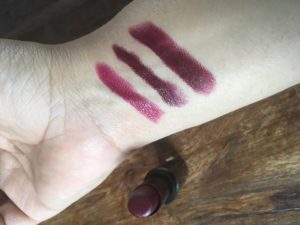 3) Wet n Wild; one of the best budget brands from the US of A. Wet n Wild offer a huge range of affordable products and often release limited edition shades (as well as celebrity collaboration ranges which are sadly not readily available in the UK).
So like many companies there are lots of dupes to be found in the Wet n Wild range. And the Cherry Bomb lipstick is a dead ringer for Rebel by Mac.
Now the lipstick is a very dark vampy shade. There's not much berry hues going on here. The lipstick texture is quite thick, so if you are a fan of thinner consistencies that you find easy to build up this isn't for you. Even as a thicker lipstick it was easy to apply. Saying that I don't think you need to build this one up…but that's my own opinion.
Considering I paid less than £3.00 I was shocked that I didn't need to retouch the lipstick until around 3:30 PM (so from 8 AM). It lasted that long.
The packaging is pretty basic, with a clear lid so you can see the lipstick colour easier in your make up bag.
Based on my own experiences with this lipstick I give this 5/5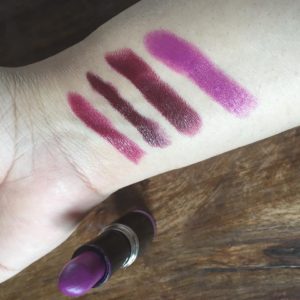 4) MUA Lipstick in Mulberry.
I love MUA as they are a budget friendly brand that can be found on the UK High Street (Superdrug). Prices like MUR start at a quid making this a great starter brand for girls working with pocket money budgets. I originally bought this lipstick to make by 4 year old happy (she loves anything purple) as it is a very pretty berry shade with the right amount of gloss.
This lipstick was easy to apply and with two layers it offered maximum colour which is great. The texture is light, yet offers superb coverage. There's no stickiness or drying out of the lips. It's a fun shade that can easily used during the day or night.
Price point it was a pound (£1.00). It's a perfect berrylike bubblegum shade. 5/5 for this beauty.
5) Medora Matte lipstick in Violet (212).
Medora is a Pakistani cosmetic brand that have been around for a long time. Made in the beautiful Swat Valley these lipsticks retail at 120 Rupees in their native land (that's less than a quid!). Available in a range of colours and finishes you can pick them up for less than £3.50 on eBay UK. Sadly the demand for Medora in Pakistan is decreasing with the increasing interest in International or foreign brands.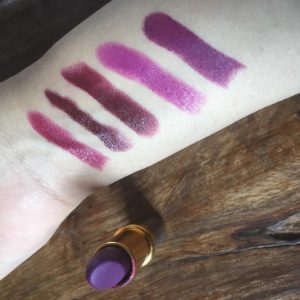 So I selected what I would describe as a maximum coverage Violet colour lipstick. It's thick in consistency (which I'm noticing is the norm with matte lipsticks). This lipstick has a strong but pleasant fragrance however I find it off putting.
The lipstick goes on smoothly. It's quite thick, and I don't recommend you build up colour with lots of layers as I felt the lipstick was heavy and drying after a while.
The colour is beautiful. The packaging is very retro (grey and gold) which I like (it reminds me of my childhood when my Mother had a few of their lipsticks).
As for staying power this lipstick seriously didn't budge. The thick formula ensures the lipstick lasts on the lips. Worth the price if you want a violet/purple lipstick that is pretty and can withstand a couple of coffees, doughnuts and more….however the fragrance isn't appealing so they lose a mark on that so this one gets 3/5
So that's the first part of my reviews done.
What's your favourite Autumn shade? What do you think of budget brands available in the UK? Do you have a favourite? Give us your opinions below or come along and share your opinions on our various social media handles.
Alliyah