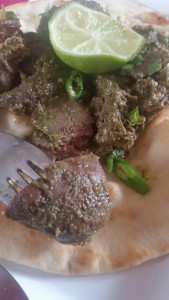 Chicken livers in chutney
We know I love cooking. We also know sometimes it's impossible to dedicate hours to slaving over a stovetop to prepare a quick meal.
Livers are a great frugal ingredient. They are also full of iron which so many folk currently don't get enough of. And the best bit is they cook so quickly and can be kept in the deep freezer for a quick meal.
My current favourite ways of eating livers is either this way or in a quick pasta sauce (recipe coming soon!).
NOTE: a splatter guard is useful ( or a lid of some kind) as the livers splatter a lot.
To serve 4 people for lunch you will need:
500 grams of chicken livers, trimmed of fat, washed and dried (this makes nice generous portions you could half this for a lighter meal).
1 and 1/2 TBSP vegetable oil
1 TBSP salt
1 TSP freshly ground black pepper
1 bunch of coriander (approximately 60-80 grams) stalks and all. Washed and roughly chopped
30 grams of mint leaves washed and roughly chopped
6 green chilies (for medium spice) or less for those who don't really dig chili. Increase to 10 if like me you need a chili hit
Juice of 1 lime
To serve: Tandoori Rotis (other flat breads)
Optional extras to serve:
Sliced green chilies
1 TBSP coriander leaves chopped
1 lime quartered
1) Firstly make the chutney. I make it in a food processor (the jug variety or mini food processors). Place the mint, coriander and chilies in the processor. Whiz with 2 TBSP cold water. Add the lime and blitz until you have a rough paste.
2) Heat the oil in a large pan on a medium heat. Add the livers and fry until the livers are cooked. This for me took 5 minutes on a medium heat.
3) Add salt and pepper and the chutney. Stir and ensure all the livers are covered in the chutney. Turn the heat off. Leave to rest for a minute and serve.
I like to serve this quick meal on tandoori roti (store bought). But you can serve it with any type of flatbread you like.
Enjoy!