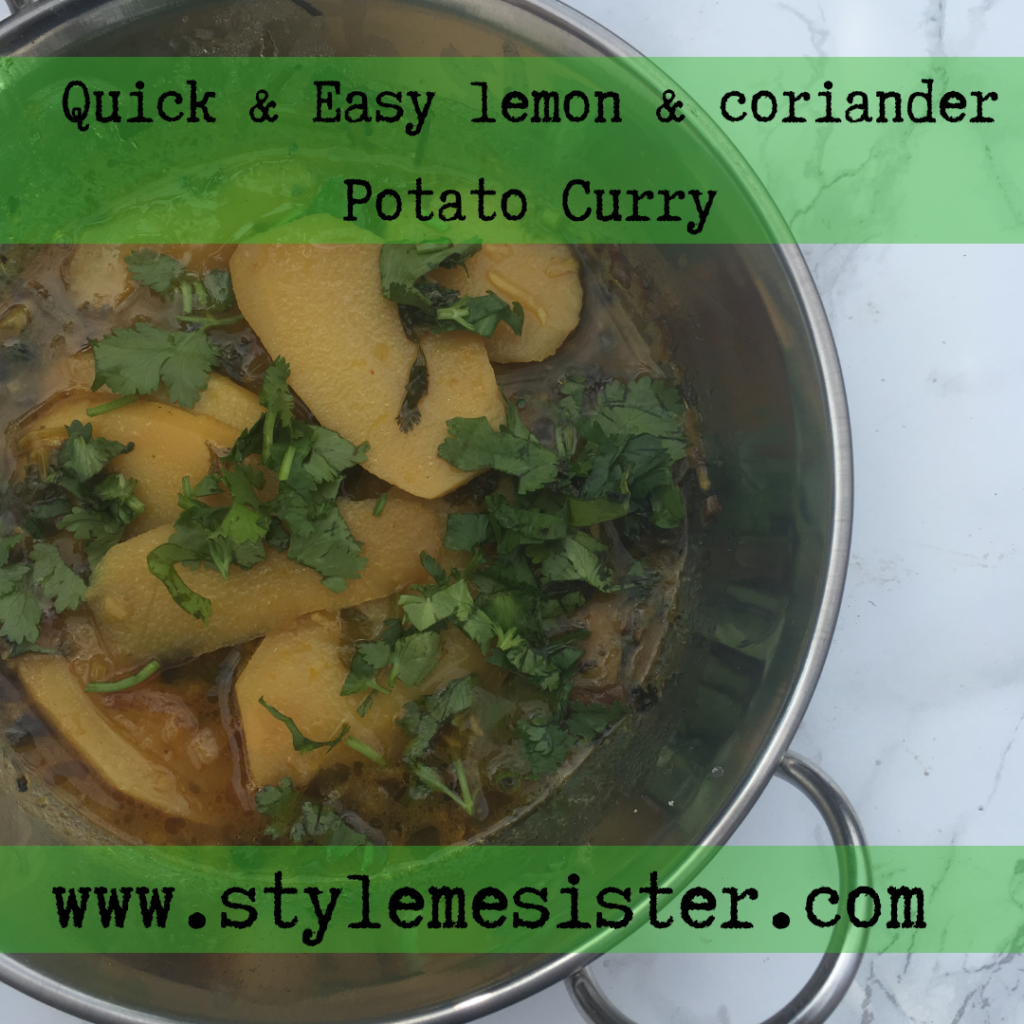 I'll be frank with you. I love curries but I get bored of the same old same old situation.
When the (former) Boss and I decided to have Lunch at mine I created what I would consider a Vegetarian Banquet. I absolutely love vegetarian curries. I believe they showcase how awesome and easy vegetables are to work with. Plus with my healthy food kick I am always looking at healthier meals. It helps that I love daals/pulses!
One of the curries I created was this one. Its a simple, frugal curry I believe is perfect for Spring and Summer as it's lighter than other curries. There's no tomatoes in this curry and that's why it wouldn't look like a standard red curry.
I serve this curry with plain boiled rice. It also tastes equally awesome the next day. It cooks in less than 30 minutes and children love it too.
This recipe is actually VEGAN. So to my vegan readers I hope this is music to their ears.
To serve 4-6 people (depending on curry portion sizes)
400 grams (baby potatoes work, as do standard potatoes cut into rounds that are pound thickness).
2 RBSP rapeseed oil
1 large onion sliced thinly
5 cloves of garlic-crushed
4 TBSP fresh coriander (including stalks) chopped finely
2 lemons-juiced
1 TBSP coriander seed powder crushed
1 TBSP cumin powder
Salt-to taste
OPTIONAL: 1 TSP chili powder or 1 TSP chili flakes.
1500-2000 ml water (plain stuff from the tap)
To serve:
Lemon wedges (optional)
Yogurt (vegan to keep the recipe vegan)-optional
Plain boiled rice ( I use Basmati).
I assume you guys have prepared the ingredients as above…lets get cracking.
1) Heat the oil in a large pot on a medium heat. Add the sliced onion and fry until onions are soft NOT browned.
2) Add the potatoes and stir well. 'Fry' for 5 minutes stirring to ensure the potatoes don't stick.
3) Now add the garlic and fry for one minute. You'll be 'hit' with a shot of garlic scent. That tells us we are ready for the next step.
4) Now add the salt and dried spices. Stir well to coat the potatoes. If the spices start to 'burn' or the mixture starts to stick add 2 TBSP of water to the potatoes.
5) Add HALF the coriander. Stir well.
6) Now add 1500 ml (1.5 litres) to the potatoes. Bring to the boil and then reduce the heat and cover the pan. You need to cook the potatoes until tender. Now this will vary depending on which potatoes you are using. So after 8 minutes 'test' the spuds. I usually do this by carefully inserting a sharp knife tip into the potato. If it starts to fall apart its done. It its hard as nails you need to cook it more. I found my standard potatoes took 18 minutes too cook. Now you will be thinking why do you have water left over? Answer: if you want a more 'runny' curry you need to add all the liquid. If you prefer a drier curry stick to 1500 ml. Always remember that if water evaporates too quickly the potatoes won't cook and you need to add more. It's that simple.
7) Once the potatoes are cooked turn off the heat. Now add the remaining coriander and lemon juice. Stir through.
8) Serve!
I served with rice but you can serve the curry with Naans or maybe Parathas.
Store leftovers in the fridge and warm through thoroughly before serving.
Delicious.