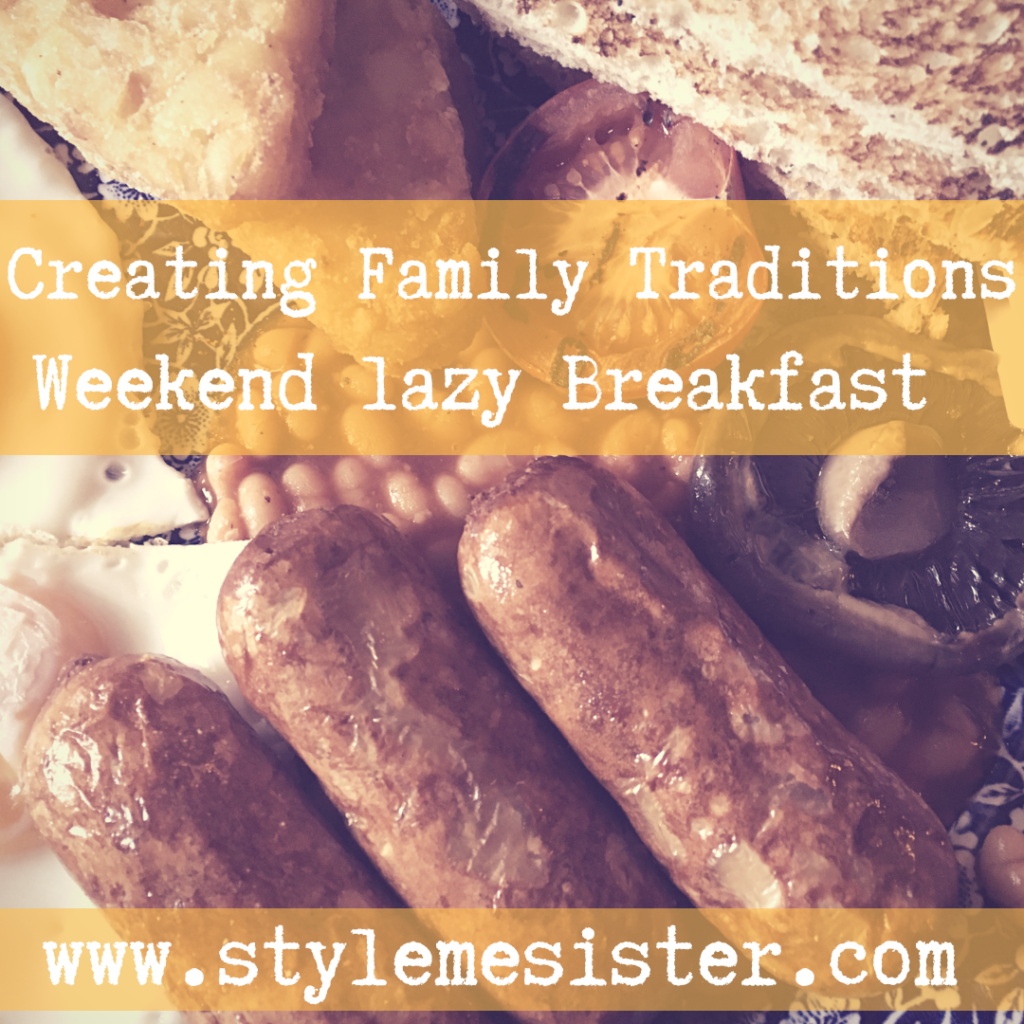 I'll be the first to admit that during the week my breakfast routine is 'get in town your neck'. My breakfast is usually high in protein (boiled eggs with zataar for example). I also keep it low carb and low sugar.
The same applies to my children; except they have low sugar cereals, Porridge (made in the microwave) or wholemeal toast.
However we do like the idea of a longer, more lazy breakfast with more variety. So we have developed a bit of a family tradition on Saturdays.
We all get up around the same time as weekdays (an extra 30 minutes to an hour is a good way of catching up on some extra sleep) however we all have a cooked breakfast. It doesn't have to be the full monty (eggs, bacon, sausages, mushrooms, hash browns, beans etc) but it's usually cooked.
It doesn't take me ages to cook breakfast because I do the following:
I use frozen hash browns that I air fry
I use frozen sausages that again I air fry
Fried eggs take no time at all; if the girls want omelettes we stick to omelettes and hash browns and beans.
I don't make fresh juice; I leave my desire for fresh juice for when I am on holiday
I take items out of the freezer the night before and defrost them in the fridge overnight-then pop them in the air fryer in the morning.
We all like bit of bacon (which we do fry) and that takes a matter of minutes to cook. Any leftovers get added to mac and cheese.
If you do like mushrooms you can actually buy sliced mushrooms frozen.
The girls rarely like smoothies on Saturdays but if they do want one it's simple to create as I have frozen fruit, frozen yogurt cubes etc at hand.
I have a menu that I have on display in the kitchen for Saturdays. We like to make things special. I keep all the ingredients on hand for all the menu options.
My menu includes:
The full monty
Mini monty
Omelettes
Cloud Eggs
Egg Muffin
Eggy bread
Fluffy pancakes (optional: serve with bacon & syrup)
Egg, cheese and bacon muffin
Spinach, egg and hash brown tortilla wraps (prepared, cooked and frozen. All I do is defrost, warm and go).
Sausage sandwich
Sausage muffin
Smoothies
Smoothie Bowls
Sugary cereals (frosties/cocopops etc).
Nutella Porridge (it's a treat due to high sugar content).
Parathas and eggs (the best of desi breakfasts!)
Breakfast specials (on Eids etc such as Breakfast quesadillas, breakfast casseroles, sheer khurma).
Drink wise:
OJ
Tea
Green tea
Desi Chai
I make breakfast whilst the girls usually watch a bit of morning TV however they do try to help with certain options.
We then enjoy breakfast together. In Summer we usually have breakfast in the garden and make the most of the season. The girls then play in the garden whilst I clear up and do any washing required.
We all eat which makes this tradition of ours easy to keep up.
If we have to be somewhere early I narrow down the options for the girls the night before and prepare as much as possible in advance. Very rarely have we had to have cereal and run out of the door. I'm a planner; so try to keep on top of things.
And as someone that meal plans my freezer is always stocked with essentials; which makes life so much more easier.
My aim with lazy Saturday breakfasts is to create memories for the girls plus I hope they'll find the time in their busy lives when they have their own families to sit down and eat together at the end of the week and reflect on things. It's like date night, but at breakfast and all the family are invited. It also helps set the tone of our weekends (Which I try to focus on family friendly activities which both girls can take part in). I believe it's important to lead by example and putting in an effort so we all sit together and eat together is setting an example of the importance of family and appreciation (gratitude) of what we do have.
I would love to keep this tradition going when the girls are teenagers; but who knows what the future will bring.
In the meantime though I'll carrying on waiting for the girls to decide on what they want to eat (only to pick what they had the past 9 Saturdays on the row).