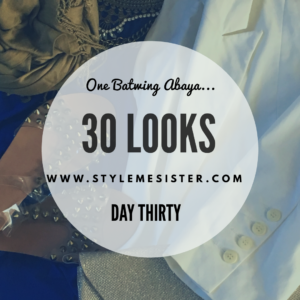 Day thirty of challenge:
Plans: Friends Birthday celebrations
My outfit contained:
Batwing Abaya
Gold Hijab
Gold statement necklace
Gold studded sandals
Gold clutch
White blazer
I didn't know if a jersey Abaya could be dressed up enough to be worn to a celebration; however I've got to be honest with you this look was simply stunning!
Conclusion:
I didn't think I'd make it but I did! There were a few curve balls (e.g. celebration events) but I got through them.
Of course I realise that I used certain combinations in 'blocks' e.g. for a few days I wore leopard prints, and for a few more I wore red etc. I like working in blocks of course you can switch up outfits as you see fit and suitable for you!
What do you guys think?
I hope this has shown you that we don't always need different Abayas or accessories to style. We have a lot of things already in our wardrobes.
Any suggestions on what challenge I should do next? Let me know below.
Love,
Alliyah