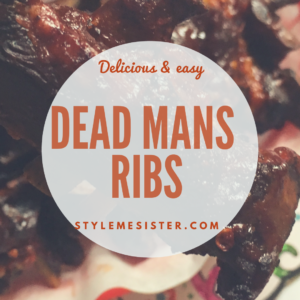 Dead man ribs
I'm a huge fan of ribs but the sugar content of marinades puts me off…So here we have a recipe that is sweet, sticky but also a bit tart (thank you lemons).
I originally made this recipe for Halloween 2017; but I love it any time of the year.
I first cook the ribs in the slow cooker…and finish them off in the oven. You can just cook them i the oven if that makes it easier for you (I just wanted the meat to fall off…completely.
These guys actually taste awesome the next day too.
Serve with lots of napkins!
Ingredients:
1 KG mutton ribs (we asked for them to be chopped up)
1 1/2 cup ketchup
OR 1 cup ketchup & 1/2 cup chili sauce (if you want a fiery rib baby)
1/2 cup honey
1/2 cup lemon juice
1 tsp cayenne pepper
1/2 TBSP garlic powder
1/2 TBSP onion powder
1) Wash all the ribs and dry.
2) whisk all the ingredients together.
3) place the ribs in a ziploc bag (plastic food bag that can be sealed) and pour in 80% (the majority of the sauce) into the bag. Seal carefully and massage the ribs to get them covered in the sauce.
4) Leave to marinade overnight or for at least 3 hours; in the fridge.
5) To cook in the slow cooker: place the marinated ribs (and the sauce in the bag) into your slow cooker and cook on high for 3 hours.
6) Remove from the slow cooker (leaving any liquid in the slow cooker to dispose of) and place on a baking tray lined with greaseproof paper. Brush over the sauce you kept at step 3.
7) Bake in the oven at 180 for 15 minutes turning once and brushing with any remaining sauce.
8) Serve with plenty of napkins! The meat will be falling off….