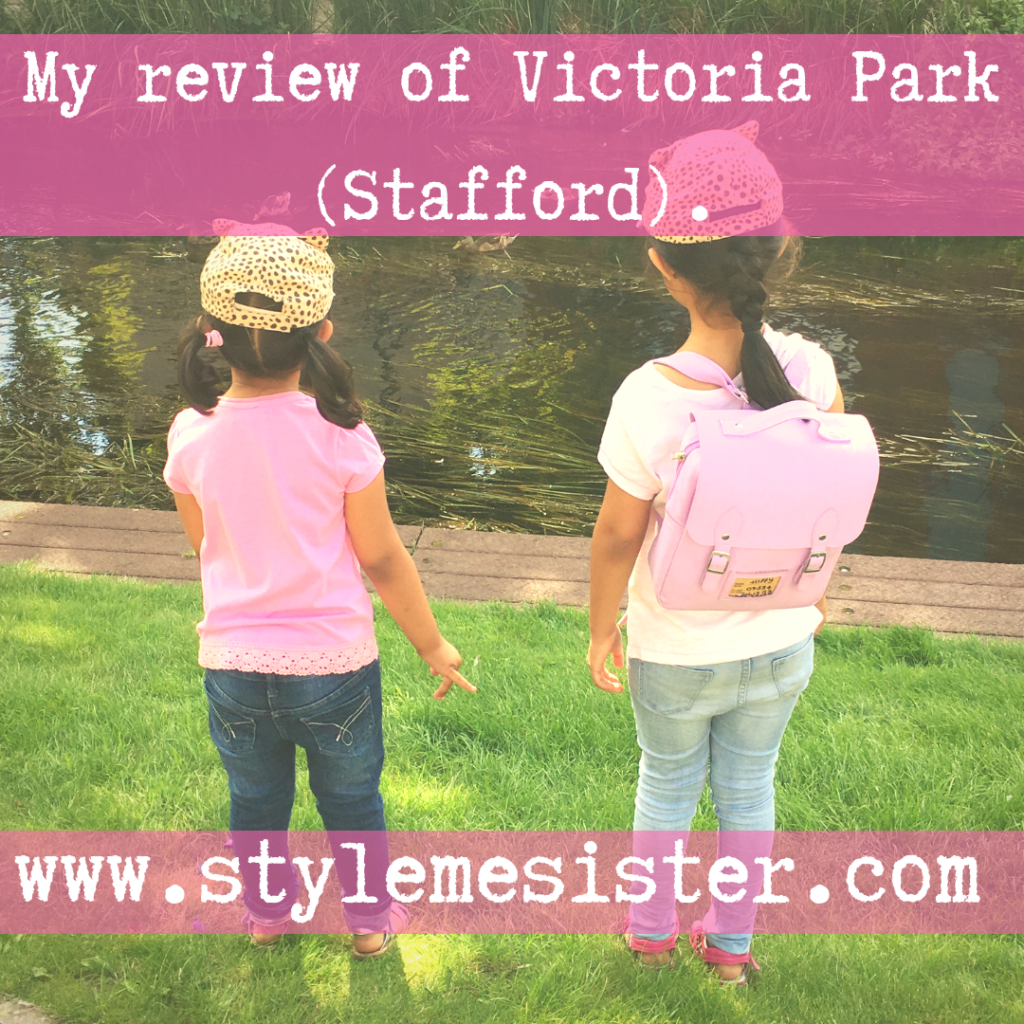 There's a few hidden gems across the West Midlands and one of them is in my opinion Victoria Park in Stafford. This beautiful award winning Park can be found in the heart of Stafford (opposite the Train Station) on the banks of the River Sow. The Park has received lottery Heritage funding and is currently undergoing some magnificent restoration to a bygone era.
And as the weather warms up I want to encourage you all to get out more, get more fresh air and reap the benefits of exercise. Not to mention children need sunshine, fresh air and a space to let off steam. What better place than a Park?
We are currently located in Stoke-on-Trent which is a short drive to the Park but to make this into an adventure we go by Train…because the Park is literally opposite the Park and the girls think we're travelling far and wide (When it's like 15 minutes away). Plus when you use the Train there's no need to find Parking; which is awesome.
I love Parks; they are the perfect venue for play dates or inviting the whole group to have a Picnic, play some games and generally accommodate a large brood without worrying about space.
Victoria Park has a lot to offer. It's easy to spend hours in this Park. We travelled by Train (all a part of the adventure). The Park first opened it's gates in 1908 making it one of the oldest around (that is still in full use).
The Park boasts some great floral displays around the Park making it very picturesque The River Sow snakes through the Park providing many banks to sit down and relax on. As with any water you do need to watch little ones; and ensure they understand the dangers. The well maintained grounds provide many places to have a picnic around the park (we sat next to the River and nope it did not stink even in the height of summer).
If you forget to pack a picnic or snacks there's plenty of shops nearby (including coffee shops) so you won't struggle too much to find reasonable priced food or drinks.
There's a huge play area for children of various ages to enjoy. There's swings, group swings, trampolines, toddler play area, roundabouts, huge climbing frames….everything is well kept and in pristine condition. Both girls loved it.
And there's a huge sand play area that the youngest in particular loves (just remember to pack some buckets and spades!).
The Park has toilets on site too which is a blessing especially for anyone with youngest children. There's also an ice-cream van on site which helps in the heat.
For the hotter months there's a brilliant Splash Pad for children to enjoy (it's worth packing swimming costumes for this or at least a spare t-shirt to change little ones into if they get too wet).
The Park can get busy but that adds to the atmosphere. We ran into a Grandparent that used to visit with her Granddad. She'd moved away when she got married but her son relocated due to work and she was reliving her childhood through her grand babies.
We spent approximately 4 hours at the Park which is unbelievable as my youngest gets bored very quickly. It's a stunning Park and I recommend it for families, couples, elderly….everyone! This is such a beautiful Park it would be nice to visit in each season to view the changes.
My top tips:
Pack a picnic and picnic blankets as it would be a shame to miss the opportunity to not eat in this glorious Park
Pack SPF and swimming costumes (or spare clothes) for the Splash Pad.
Don't forget a towel to dry off!
Don't forget some food for the ducks.
Talcum powder will help get sand off children's skin so it's worth taking a small bottle if you have one.
Buckets and spades (labeled with your little ones name) would be useful if your little one like playing with sand.
Don't forget wet wipes. Always useful especially where there's ice-cream…
And lastly, take a stroll along the River…whilst eating an ice-cream.