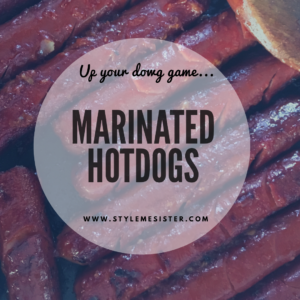 Marinated Hotdogs
*Turning the boring hotdog into va va voommmmmmm dowg*
I really admire Mamas that can be openly honest about the fact they *DO* feed their children the food groups that make the pro-raw-no sugar-no fats-no flavour-taste like cardboard foodie Mamas jump straight into their early graves.
I do not feed my children 'junk food' on a daily basis however I do factor in 'treat foods' because I'm a firm believer that forbidden fruit will drive you to your limits to taste them. So rather than eliminating things from my children's diet I operate a 'food within moderation' system.
My girls love Hotdogs. I am personally not a fan of the humble dog however give me a pimped up dowg and I'm more likely to bite your hand off for a bite of yours.
Standard hotdogs boiled/warmed up make me heave. However marinating them will take them into a realm of their own. I've included THREE marinade recipes for you to enjoy. I have it on good authority that these dowgs are the bomb. Okay enough embarrassing street talk let's get down to business.
These Hotdowgs will literally take your next BBQ up another level without loads of prep work. Trust me on this. Once you marinate dogs you ain't.never.going.back.
You will need:
6 Standard Hotdogs (I use a beef and chicken mix ones as I follow a Halal diet)
6 Hotdog buns (Brioche Buns are cool for adults….or keep it standard if you wish).
Fried onions
To prepare the dogs:
Remove from the packaging and wash thoroughly.
Now is the fun bit. You want to get flavour into the dogs (not just on the outside). I've tried two methods. I pricked the dogs and marinated them and it failed. So I recommend you make small cuts at side of the dogs (basically the dogs will look like they have fins). This method works super well and I got compliments on the dogs so we know it works.
Repeat for all the hotdogs.
Recipe one: the party favourite.
Ingredients:
6 TBSP tomato ketchup (you can use a cheap version however if you do want to be flashy it won't hurt)
4 TBSP Worcestershire sauce
3 cloves of garlic-crushed!
1/2 TSP crushed chili/chili seeds
1) mix all the ingredients together in a ziploc bag and add the hotdogs. Seal the bag and 'massage the dogs' to cover the in sauce. Leave them in the fridge for at least 4 hours (up to 24).
2) Remove from the marinade and cook. You can fry these bad boys or BBQ them (so bookmark this recipe NOW or when summer rolls up…).
3) Serve in the buns with fried onions (optional). You don't really need any additional sauce.
Recipe two: Sweet and sour dowgs
This recipe is a favourite amongst children that like a bit of sweet and savoury. Adults will love it too…but kids will love these.
Ingredients:
3 TBSP sweet chili sauce
1 TBSP honey
Juice of 1/2 lime
2 TBSP tomato ketchup
Optional: 1/2 tsp chili flakes
Repeat method as above.
Recipe three: Sweet BBQ Chili
Some like is smoky; I love it hot. Here's a crowd pleasing marinade for the hotdogs.
Ingredients:
2 TBSP BBQ sauce
2 TBSP Sweet chili sauce
1/2 TBSP honey
2 clove garlic-crushed
Optional: liquid smoke (follow instructions on how much to use on the bottle).
Repeat as above.
Top tip: these marinades also work for mini sausages so if you need to spice up your buffet for a party look no further.