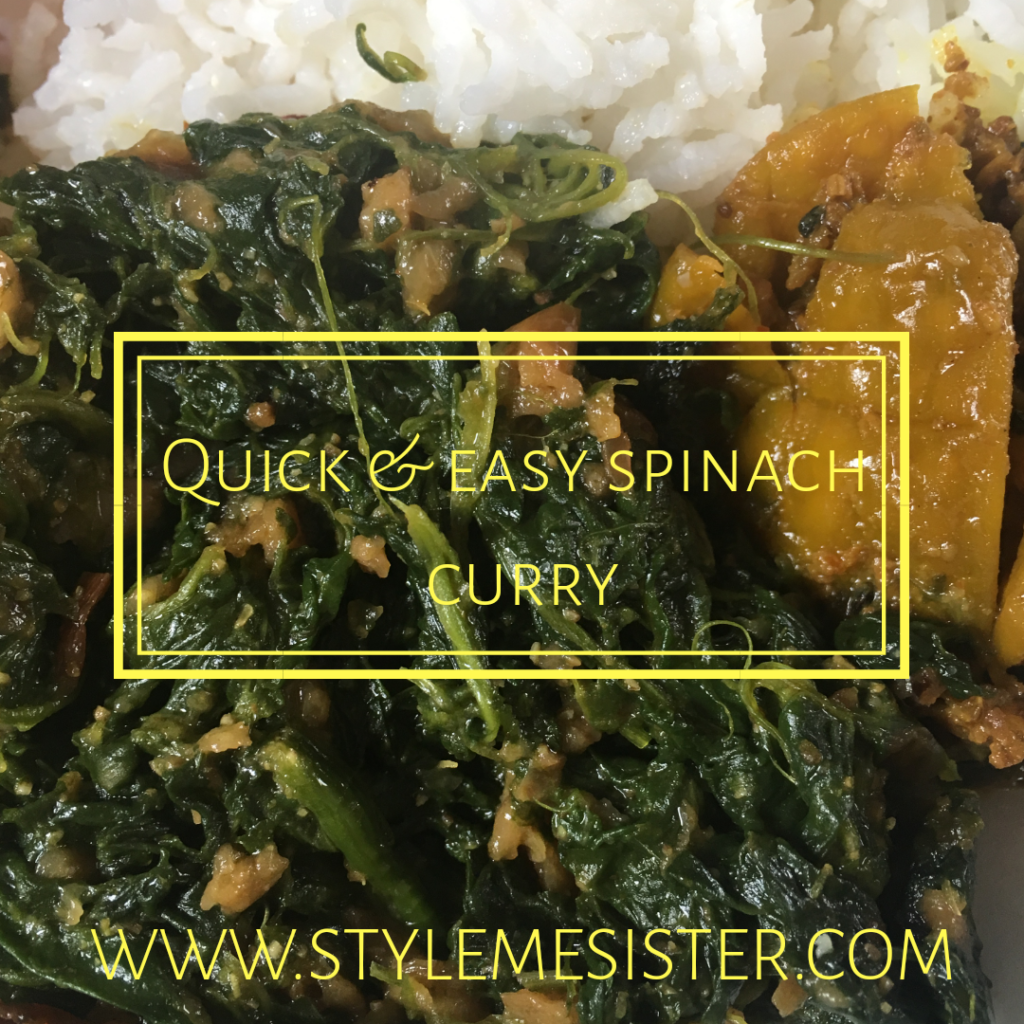 Meat free Monday
My Fast Spinach Curry
Growing up with Popeye it took me a while to acknowledge that large doses of leafy greens did not automatically equate to biceps that would make Dwayne Johnson jealous. Lucky for me though I'm a patient type of chick and I'm steadily changing my body to look the way I want (muscles and all).
This is a super quick curry that I really love. I'll be honest. The portion sizes here are 250 grams each and feel it's worth having a larger portion as spinach wilts down a lot.
Like I said it's quick and actually easy to get onto the table. I use pre-fried onions and frozen spinach….and well the lack of fresh stuff means the food is quick to get on the table. Result!
Of course you can use fresh onions and spinach and adjust amounts and cooking time to reflect this. But like I always say my Meat free Monday recipes are designed for speedy Monday meals.
To make two portions of this amazing curry you will need:
500 grams frozen spinach defrosted and drained
2 TBSP oil
4 TBSP pre-fried onions soaked and drained
1 heaped TBSP garlic paste
1 heaped TBSP ground coriander seeds
1 heaped TBSP ground cumin seeds
1 TSP chili powder
Cooking salt-to your own taste
150 ml (and a bit more just in case) water
Juice of one lemon
1) Heat the oil in a large pan on a medium heat.
2) Add the onions and fry for about one minute stirring well to ensure it doesn't catch/stick or burn. If you find the mixture is sticking too much just add 2 TBSP of water.
3) Add the garlic and cook for 30 seconds.
4) Now add the salt and spices. Fry for about one minute to cook out the spices. Keep stirring though. No one likes a curry tinted with burnt spices.
5) Add the spinach. Stir well to coat the spinach in the spicy mixture. Fry the spinach for 5-6 minutes.
6) Turn the heat off; your curry is done.
7) Before you serve the curry add the lemon juice.
Enjoy