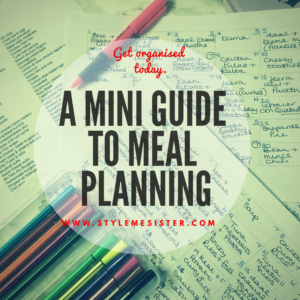 Meal planning made easy!
No really; you don't have to be Martha Stewart of Nigella to carry out successful meal planning.
I bet a lot of you have thought of meal planning and may have even done it and FAILED because of many factors. Some of the main factors that lead to epic maiden voyage failure include:
1) Not considering what your family (and you!) actually enjoy eating
2) Not considering time restraints
3) Not considering budgets
4) Not considering how difficult it maybe to get hold of 'exotic' ingredients
5) Not considering fridge and freezer space
6) Not considering family life on the days you are planning meals
7) Not considering the equipment you have at hand
8) Not considering how expensive some pieces of equipment maybe to purchase for a recipe you may not even like
….I could continue but I think I've considered the majority of you.
I know exactly how easy it can be to get carried away on pinterest an pin hundreds of lentil meatless balls recipes to a board to try when your family cannot stand lentils. I've been there; and that's why today I will try to demistify meal planning and make it something you CAN do and be successful at.
Let's dive straight in.
1) BUDGET BUDGET BUDGET
We need to keep this real y'all. How much do you have to spend a week/month. If you have a monthly budget break it down into 4 to see how much you have per week.
TIP: if you really are unaware of food prices log onto a Superstore website and look up prices on the items you'll be using e.g. meat, pasta, yogurts. I always start by looking at the essential items.
2) How much time do you REALLY have to prepare and cook meals? Do you have a couple hours on a Sunday to prepare for the week ahead? Do you have a block once a month to make a couple of meals you an freeze? Be realistic. We all have lives. You cannot be super wifey, super mama and work long hours and cook organic vegetable lasagna with homemade pasta sheets every day.
NOTE: If you planned to do a bulk preparation session PUT IT IN YOUR DIARY NOW.
So be realistic; go through your diary/plans and look at what time you have on your hands. If your main aim is to eat healthier and you are struggling with time you need to consider freeing up time in your life; after all health is something we cannot put a price tag on.
3) What do you actually enjoy eating? What are your favourite meals? Where do you enjoy eating out?
Make a list of your favourite meals (even the naughtier ones that would give your Doctor a shock).
4) What equipment do you have (or can borrow)?
Do you have a Slow cooker? Maybe a pressure cooker? A panini maker collecting dust?
5) How much fridge and freezer space do you have? Can you brown meat/mince etc for a few days in advance or will you struggle to fit yogurt and milk in?
6) Look up recipes you'll be using based on the food you enjoy. You may have recipe books. You could also pop into your local Library to borrow some books. Or use the internet.
7) Find a meal planner that works for you. I created my own which has enough space for me to jot down if we've got a busy day that day so I don't over commit to cooking that day.
I keep my Family Calendar on the table as I plan my meals; this helps majorly because I can also see if I need to prepare lunches etc too (which I often use leftovers for).
Note: NOT all the meals I cook are from recipe books. Some are meals I've grown up on or use weekly.
You don't need to try new recipes every single night! That's going to stress you even more.
If you are an expermental cook set aside maybe two nights a month to try something new. I would ensure you either have leftovers from the night before or a simple meal alternative incase the meal doesn't go to plan (so maybe the night after a Roast meal. That way you can use leftover roast chicken in tortilla wraps and make cheese and chicken quesadillas and serve them with a dollop of yogurt or sour cream).
Now the fun bit: plan out your meals. I try to make life easier by having rough outlines to what I am aiming to cook on a weekly basis based on what the family eat so I have sub-categories:
Once a week pizza (frozen)
Once a week Pasta dish
Once a week Mince based meal
Once a week Chicken based meal
Once a week Roast chicken meal (with/without all the sides depending on what we fancy)
Once a week fish option
One a week vegetable/lentil based meal
Now some weeks I don't cook a meal from all those categories but we try our best to vary our diets as it's important to not get bored with meals and to get as many vitamins, protein etc as recommended.
Some meals cross over more than one category for example:
Chili con carne 'Shepard's pie'-it contains mince and a hearty dose of vegetables in the carrot and root vegetable topping. It also contains red kidney beans (lentils=extra protein).
Desi style keema pasta bake: contains pasta and mince chicken. So it's a pasta dish, contains chicken which is mince.
Notes:
I don't usually plan lunches UNLESS it's the holidays as we're usually busy and I get bored of sandwiches everyday.
I also increase food budgets in holidays because you have extra people around at lunch time.
I also reassess time restraints in holiday lunch planning.
8) Do you shopping after checking what you have in that you will be using.
9) PRINT out your meal plan and keep one on the fridge, one on the family notice board (if you use one) and once in your planner. Whilst you are getting used to meal planning you can do with having gentle reminders.
10) And for the big event itself: get cooking based on your Meal Plan.
What happens next?
Firstly, don't panic if things don't go to plan at first. You may have glitches and that's fine!
Have back up meal ideas if you are trying something you are not sure will go down well with the family (I offer my children toast, beans on toast, spaghetti on toast etc as alternatives to anything they get to fussy with).
NOTE down which meals worked best and which DIDN'T. It's absolutely fine to cook the same meal a few times a month. It's also fine to rule out certain dishes too.
Extra useful TIP: I made a list of 7 meals by children and I enjoy and I always include them on the plan. ALWAYS. I also have a Pizza meal night which is Friday's. I use frozen pizza and that takes away another 3/4 meals a month. That helps me a lot and my girls get their treat too (whilst watching a movie).
Give yourself a pat on the back because getting used to meal planning at first can be very stressful!
I hope that's helped you somehow: I wish someone had explained to me the basics of meal planning when I first started planning meals and also pointed out that I didn't have to try something new everyday; and I don't have to cook anything we don't enjoy (if your choice is based on nutritious value look for an alterative because in all honesty meal time struggles are not worth the energy lost).