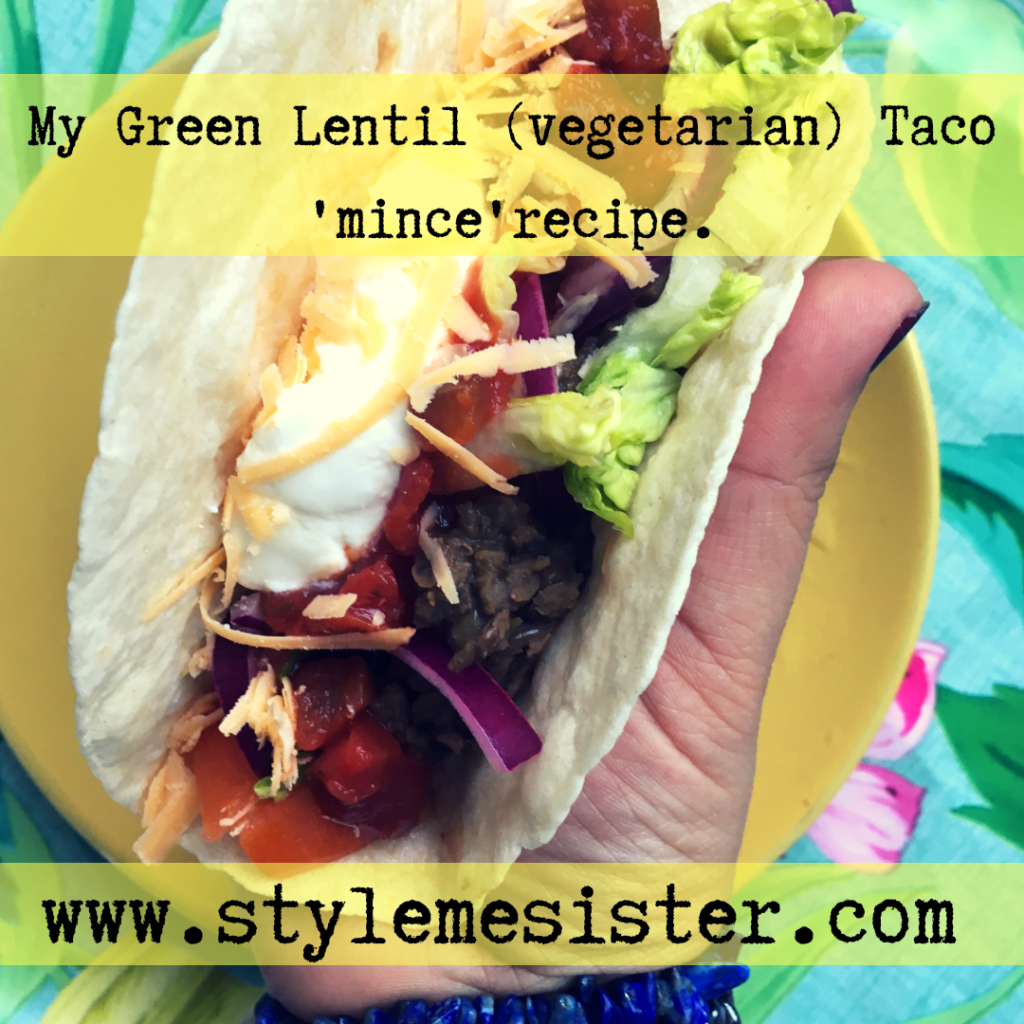 Green Lentil Tacos!
For those that know me will know I love green lentils. They are bloody awesome.
Here is my version of a 'vegetarian taco meat' which I believe is the bloody best!
It's an awesome 'Meat Free Monday' recipe. It's also great for a big crowd as everyone can build their own tacos to their own tastes. If you do serve this for a big group add some tortilla chips as a side.
Its cooked in the Slow Cooker however it's started off on the stove. It's awesome because you can freeze it. It's also awesome because about 15 minutes work results in Tacos that are soooooo good you will be singing me praises.
For this recipe (which makes enough for 8 large tacos) you will need:
(Ingredients):
2 medium onions-sliced
8 cloves of garlic-crushed
2 TBSP rapeseed oil
1 TBSP oregano
1 TBSP cumin
1 TBSP coriander powder
1 TSP smoked paprika
1 TBSP salt (adjust to your own needs)
1 TBSP onion powder
250 grams green lentils (my go to super food).
800 ml of water (or stock)
1) Wash and soak the lentils in boiling water for at least an hour. I cover the bowl with cling film and this works great. You can also place the lentils in a thermos.
2) Heat the oil in a large pan and fry the onions until soft. You don't need them to be browned. Add the garlic and stir and fry for 30 seconds.
3) Drain and add the lentils and fry. Add a bit of stock (or water) if the lentils start to stick.
4) Add the herbs and spices. Mix well.
5) Bring to the boil. Transfer to the Slow Cooker and cook on high for 4 hours. Check after 1.5 hours. Stir well. Check again at 2.5 hours. If you notice that the liquid (Stock) has evaporated add more water as you need the lentils to cook.
6) Once the lentils are tender turn off the Slow Cooker. If there's stock left transfer to a pan on the stove and heat the mixture on a high heat without a lid.
7) Remove from the heat and mash the lentils lightly.
8) BOOM! Lentils are done.
To assemble: You will need:
Tortilla wraps (I used the mini ones I get in Aldi)
Salsa
Cheese
Sour cream
Jalepenos
Shredded Lettuce
Chopped tomatoes
Sliced red onion
Wedges of lime
To put together this awesome delight of a taco:
1) Warm your wrap.
2) Spread on the lentil mix.
3) Add the lettuce, tomatoes, onions, salsa and a dollop of sour cream. Squeeze on the lime.
4) Sprinkle on some cheese and add some jalapeno's.
5) Stuff face. Enjoy. Repeat.
Notes:
This recipe is also used in my Crunch wraps.
You can freeze the lentil mixture.
It's also great for stuffing Burritos and filling Enciladas.