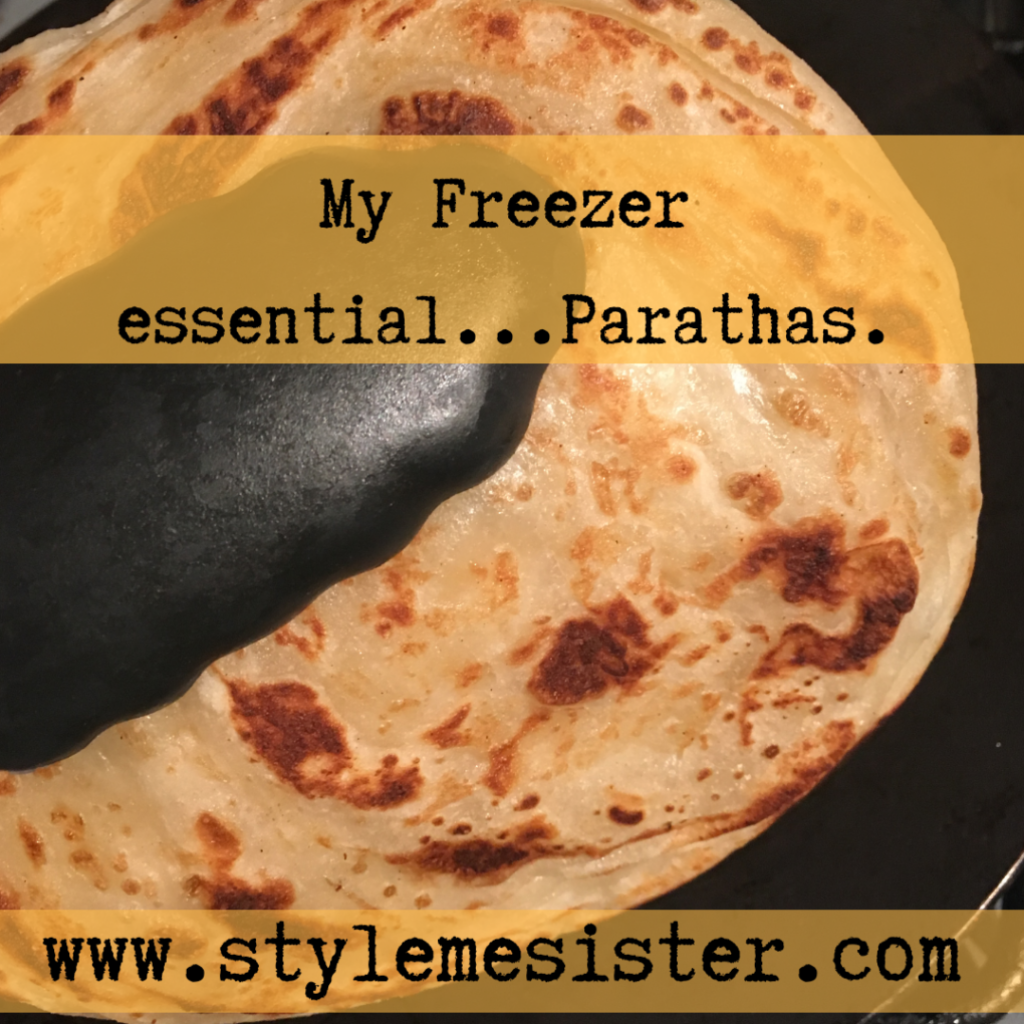 As a child Parathas (Indian style flatbread containing butter-we're Punjabi) and a fried egg signaled the beginning of the Weekend. But boy did they take time to make. I mean you kneaded the flour, allowed it to rest, rolled out the perfect Paratha then cooked it (but not be overly oily because no one likes greasy fingers right).
And of course the egg would be simply fried with a bit of salt and pepper.
Oh how times have changed. My Mother was a full time stay at home parent until I was a teenager. However I am not. My children don't have the access to a parent that spends hours in the kitchen creating food of their childhood.
Frozen food has come a long way. A looooong way.
I have a huge well stocked freezer….and one of my favourites (and essentials) is Frozen parathas.
Yes that's correct. FROZEN PARATHAS.
For real. Companies have upped their game since I was a kid.
Frozen Parathas can be off putting for a lot of people to use (My Mother dislikes them..) however if you follow the directions they are super easy to use.
Firstly these guys are used FROZEN.
No defrosting.
You heat a flat pan (I do own a tava) on a medium heat and place the Paratha on the pan.
You don't need to add any extra fat guys!
You then literally leave it on the pan for 2 minutes and turn over (with a tongue-I love my wooden tongues and my trusty all rounder ones) and fry on the other side.
You fry until the bread is lightly browned.
I then place it on a piece of kitchen paper and try and remove as much extra fat as possible.
I then serve them.
My children love Paratha rolls. I almost use the Paratha like a tortilla wrap. Its a happy desi medium.
Parathas are awesome for Bihari Kebab rolls, Bombay Frankies, Pakora Wraps….these babies are awesome.
I pick up a pack of 5 plan Parathas for £1.29. You can also get Alu (Potato) Parathas, Gobi (Cauliflower), and Methi (Fenugreek) and a range of other flavours too. There's also Lache (multi layered) Punjabi Parathas you can try.
Now these are not the healthiest item in the world. But they are awesome for weekend breakfasts.
Most important question is though: how do you take your eggs and Desi tea with your Paratha?