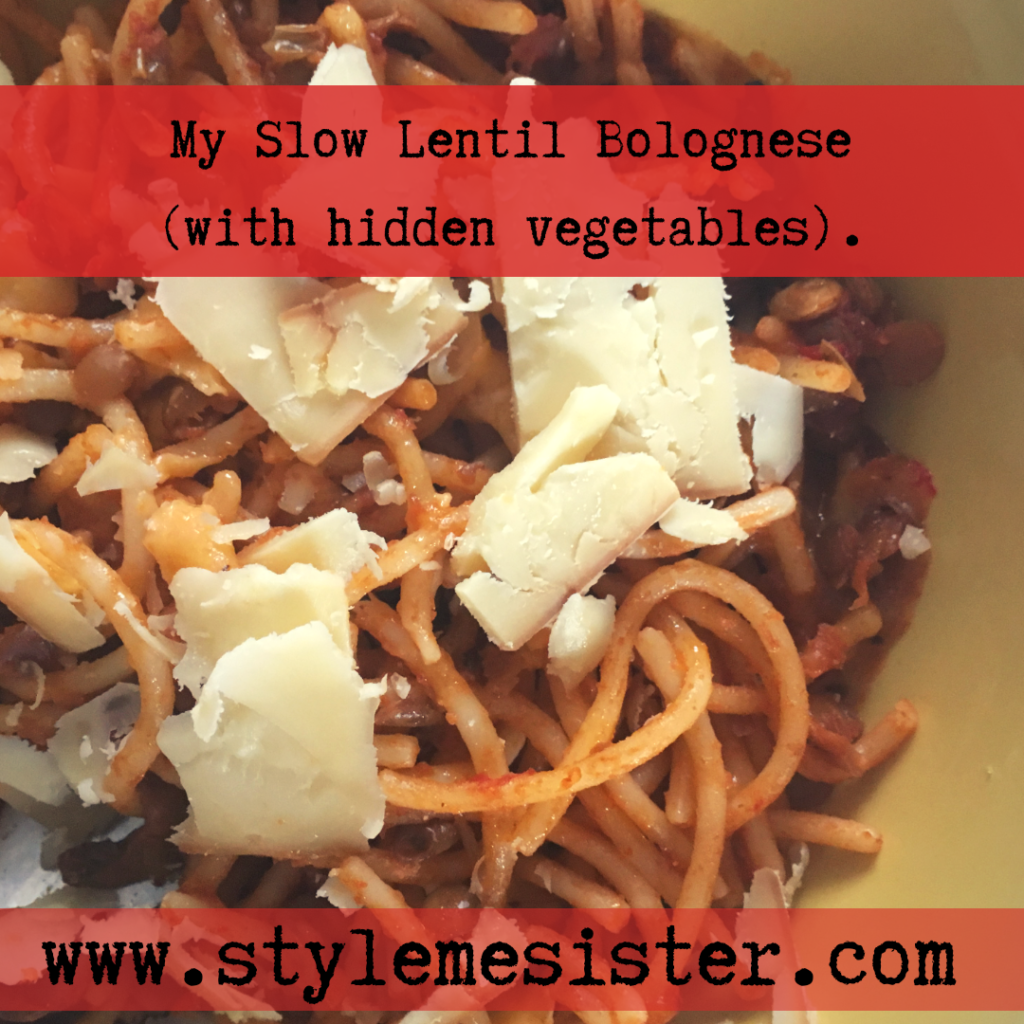 Make meat free VEGETARIAN meals AWESOME!
Green Lentil Spaghetti Bolognese with hidden vegetables
I have to admit that when I find/create a recipe I love and the family are happy to have seconds of I not only write it down but I schedule to blog it so it's out in the blog world forever.
I first came across green lentils when I was looking at a robust lentil to add to my salads. As a daal fan I thought I knew most lentils. Turns out I didn't.
I am making 2019 a year of big changes and adding more non-meat protein meals to our monthly planners is a big deal for me. The reduction in fat in my humble opinion is vital for my children's future. They need to understand healthy can meat yummy food.
My preferred method of cooking is a two step process.
Starting the meal off on the stove.
Transferring it to a Slow Cooker.
Green lentils are small, earthy bursts of flavour that make a great alternative to meat because they pack a punch in the flavour department.
This recipe is economical and is started off on the stove and transferred to the Slow Cooker. But it can be cooked completely on the stove. However I love the carefree nature of my Slow Cooker.
My youngest ate bowls of this sauce without pasta; that's how much she loved it.
So the actual recipe (serves 6).
NOTES:
Herbs used are dried.
Keep an eye on liquid levels especially if you are cooking on the stove. I like a semi wet sauce so some clings to the pasta and there isn't much on the plate. You can adjust the stock/water amounts to make the sauce fit your needs.
250 grams green lentils (I bought mine in Tesco-they have the best range ever).
1 carton passata
225 ml water (or stock of your choice. Note that stock cubes contain salt so you need to adjust accordingly)
2.5-3 TBSP rapeseed oil
2 medium onions-diced
6 gloves of garlic-crushed
3 medium carrots-peeled and grated (coarsely)
2 red bell peppers-cored and grated (coarsely)
Handful of mushrooms-chopped finely
1 tsp oregano
1 tsp basil
1 tsp thyme
Salt-to taste
Freshly ground black pepper
Optional: chili flakes
To serve:
Pasta
Vegetarian Italian style hard cheese
Garlic Bread
1) Wash the lentils. Soak them in boiling water for a minimum of 1 hour. I placed them in a bowl and cling filmed it. It worked a treat. You could also place the lentils in a thermos and it would have the same affect.
2) Heat the oil in a large pan on a medium heat. Add the onions, black pepper, chili (if using) and herbs. Fry until softened. Add the garlic and fry for 20-30 seconds.
3) Add the carrots and peppers. Fry for 3 minutes. If the mixture starts to stick add a TBSP of stock or water.
4) Add the mushrooms and fry for a further minute.
5) Drain the lentils and add to the pan. Fry for a couple of minutes (I fried them for about 3 minutes).
6) Add the passata and stir well. Add the water (or stock). Lower the heat.
7) Taste the salt levels and add more if required.
8) Now transfer the mixture to your Slow Cooker and cook for 3.5 hours on High. I generally check the sauce and stir after 1.5 hours. I also add more stock if I want a more 'sauce'.
9) If you are continuing to cook on the stove lower the heat and simmer until the lentils are tender. This can take a while. I would check regularly and stir well and keep an eye on liquid levels as you will need to add more as the amount I have added is more suited to evaporation during Slow Cooking.
10) Once cooked serve.
This dish freezes well.
You can add this to a Pasta Bake, Jacket potatoes or add a bit more stock and serve as a soup.
You could add olives and sun dried tomatoes for an extra hit of flavour.
Enjoy!