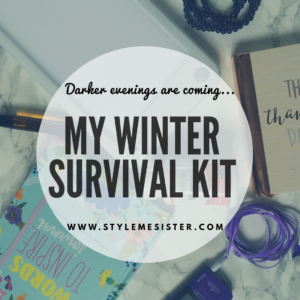 Preparing for the Winter BLUES
I try to love and embrace all seasons I really really do! But I do suffer from SAD (Seasonal affective disorder). So basically when it's cold outside, dark and dreary it gets scary for me. I used to spend the majority of the cold months indoors miserable and feeling low until I discovered I could work towards helping to REDUCE the side affects.
Since then my Winters have improved. A lot.
Here is my Winter survival kit
1) SAD Lamp
Small and compact this lamp is awesome. The colder shorter days result in less daylight which isn't good for SAD/winter blues sufferers.
I switch it on whilst I'm working (ensuring it's set to the right level to actually do it's magic on me). Half an hour a day and it contributes towards happy vibes for me.
Price: available on Amazon from £39.99
2) Vitamin B 12 & Vitamin C
In all honesty I try my best to stay on top my Vitamin intake but it can slip. From September I try my damn hardest to take Vitamin B 12 to ensure my body can fight dreaded Fatigue. It's a must. I usually feel a burst of energy from a month into taking this suppliament regualary.
I also ensure I take Vitamin C to fight Winter bugs.
*Always consult a specialist before starting a new suppliment*
3) Qi Qong (Life Energy Cultivation) Yoga sessions
Great for balancing you, relaxing you and taking stress away. There's no pretzel moves…it's about flow. And it's awesome.
4) Essential oil roller ball (self blended combinations)
To perk myself up I use essential oil blends. Citrus blends rock and are an instant lift.
5) Meditation
Because if you can think it, you can do it. Meditating clears my thoughts and helps me tune into the source (God) and that is a blessing for me.
6) Prayer beads (tasbeeh)
Dikr (repeating suppliments) calms me no end. It also lifts me. So it's crutial for me personally to do more of it in the darker months.
7) A brisk walk (no more than 10-15 minutes a day)
Yes it's cold. But what's the point of having an awesome coat if I'm not going to ware it? A bit of fresh air is super important for health.
8) Journaling
Noting down how you feel and reflecting on things is a major way of keeping 'tags' on yourself. I recommend it to everyone
9) Gratitude Diary
Because believe me when you are feeling 'down' it's easy to forget the blessings. So I ensure I remind myself daily!
10) Manifesting Box
I reread my letters, notes etc to keep focus on my goals. Why? I don't want to fall off the band wagon, lower my vibes and slow down my life. I keep focus.
That's my list. What's on yours? Leave your comments below.
Love,
Alliyah