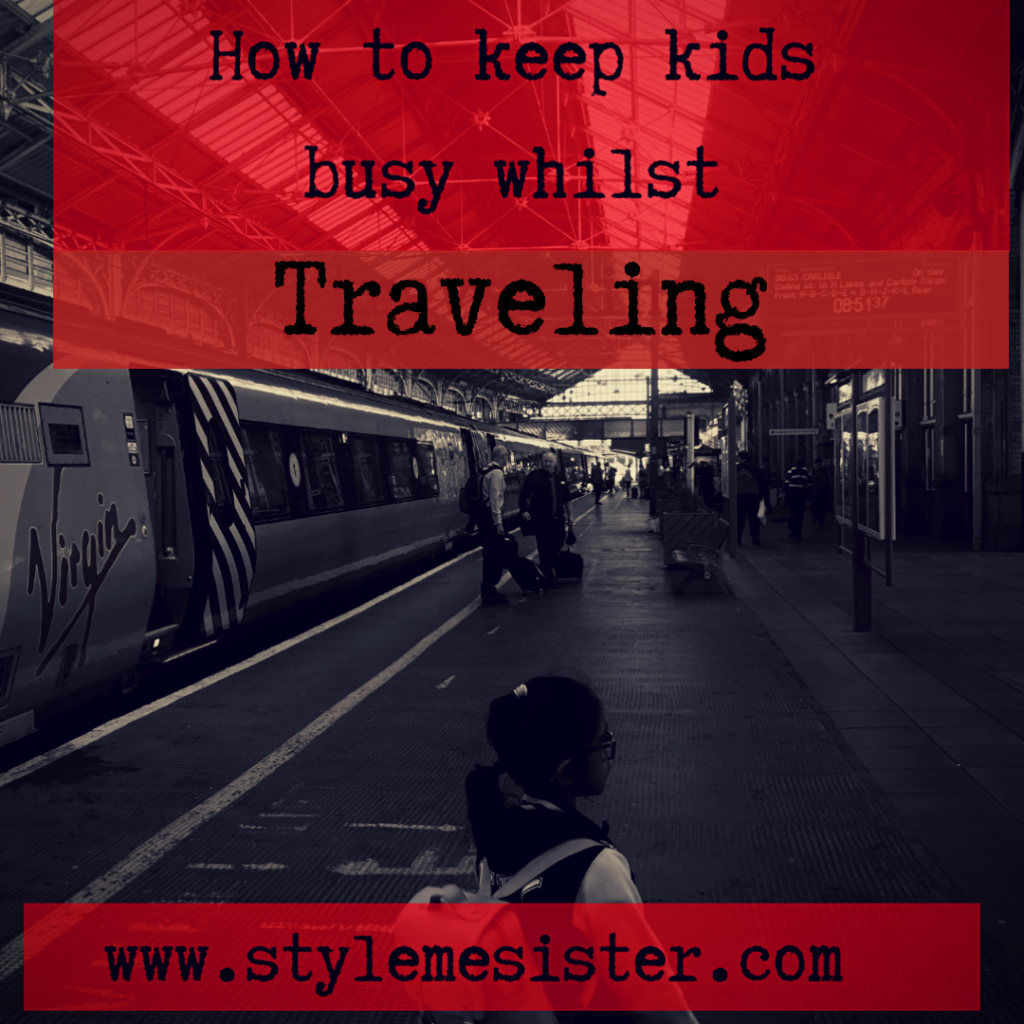 My best friends live around 3.5 hours away from me by train. We change trains a few times (usually 3 times each way) to get to our destinations and the journey can be tiresome (and boring for the girls) so I try to keep them as busy as possible on the journey. Here are my TOP ways.
Important stuff to NOTE:
Travel Sickness is REAL
factor in travel sickness guys. We always wear anti sickness bands and try to sit near the toilets 'just in case'. We also carry extra bags in case of sickness too.
You can pick up anti sickness bands for around £3.50 per pair on eBay. Worth their weight in gold; in GOLD.
Book in advance if you CAN:
It saves mad rushes in the morning. I prefer to buy my tickets in advance and I usually pick them up in advance too. I don't like using an App if I'm travelling the girls as I don't want tears (of my own) if I lose internet connection or something else.
Wifi on some trains is FREE. On others they will charge you. I've yet to meet a stable Wifi connection that was fast and signals often 'drop' on trains so I do not rely on any form of entertainment that is linked to that to save myself the headache of having the girls complain about 'it not working'.
Hydration!
Oh and don't forget water to remain hydrated. In hot weather I actually freeze disposable bottles with water in which helps keep water cool. If you do this wrap them in a teatowel before placing them in your bag.
I prefer disposable bottles for travel as it's one less thing to worry about (e.g. I don't want tears from a favourite bottle being left of the train).
But I don't need the TOILET:
We've all heard this haven't we? I get the girls to take a tinkle in each station we stop at. We usually find our platform first and then go to the bathroom.
How I keep my sanity on train rides…
Firstly I don't allow the use of tablets. The internet cost on Virgin trains is high and if you are streaming videos its slow and well; expensive. So I encourage screen-free activities.
I break down activities depending on how long that 'leg' of the journey is.
To make the journey fun we pack a Breakfast picnic. That's correct guys a picnic for breakfast. Bare in mind the first train we board is usually around 7AM.
Breakfast Picnic on the Train (it's a part of the adventure)
I prepare breakfast wraps (egg, spinach, cheese etc), sausages and hash browns the night before. I then warm them up in the morning and wrap them in foil and pack them up in the morning. We also take ketchup sachets and juice boxes to make life easier. Wet wipes help to clean fingers (and the table) post breakfast too.
I also pack some cereal bars too (which we usually avoid because of the high sugar. They do however make a convienent snack on trains).
Two of their favourite Barbies can come along for the ride….
The girls pack two of their favourites Barbie dolls EACH minus any small accessories to avoid tears when things get lost. The girls understand the rule and it's easier all around when there's minimal toys to worry about.
Music….
My girls really are their Mothers daughters and love music. I have created around a 2 hour playlist of their favourite songs (Bieber, Taylor, Little Mix etc) and have it on an old fashioned Mp3 player. I also have a headphone splitter I connect to it to save tears on whose 'go it is'. The girls then have the option to listen to a few songs. I purchase cheap headphones for the journey (from Poundland in the UK) so if they do get lost it's no big deal.
Snacks….
Food and drink on trains costs a lot…I mean I found the prices on Ryan Air to be reasonable but Virgin Trains when you are travelling with kids?! We calculate how long we'll be on the train and pack around one snack per half an hour. Snacks can include small chocolate bars, crisps, fruit, crackers etc.
I also pack a lunch style box with olives, cheese cubes and crackers for them to graze on (which helps to keep sugar intake in moderation).
I also pack a few extra bits 'just in case'.
TIP: places like Tesco do 'long life' packed croissants. They work out well for journeys too.
Activity/Colouring books
I generally pack 2 each of these for the girls (And they are usually new so it's like a gift). I get a set of pencils from poundland (so if they do get lost again no tears). These are great for children who need a bit of variety.
Travel board games (which are either magnetic or have no parts to lose e.g. Guess who).
My girls love board games (so do I!) so this is one of our favourite ways to keep the girls entertained for at least half an hour. We pack travel Guess Who and a 4 in 1 magnetic draughts/ludo/chess/snakes and ladders too.
You can pick these up on Amazon for around £5.00 each (the magnetic board game that's a 4 in 1 is a REAL bargain even if you only play ludo and snakes and ladders).
And that's about it…what do you do to keep children busy while you travel? Drop your tips below.