30 Day Batwing Abaya Challenge
I have a confession to make. I love lusting over outfit of the day images and styled images of bloggers and then sit there wondering how they do it. How do they look so flipping awesome. How do they style it?!
I don't have a walk in wardrobe. I don't have the capacity. That got me thinking about Abaya styling and if we really need a million and one accessories to create a variety of looks.
I love Batwing Abayas. For those of you that are versed in Abaya designs and cuts you'll know that jersey material Batwing Abayas are usually loose in fit, easy to maintain and believe it or not super easy to style (without breaking the bank).
I love regal colours.
There's just something mystical about them. I just love them. My favourite Abaya is my royal blue Batwing jersey Abaya. And yes; royal blue is my favourite colour.
For this challenge I put together outfits for my normal day to day life. This includes:
Days out (including to the beach)
School run
Work
Meetings
Social life
I have a range of coloured Hijabs as I believe in Colour Therapy work and I love jackets (as they help cover short sleeves which is helpful when you wish to dress modestly). I also have a stack of handbags and shoes. Yes ladies like you guys I'm fairly normal.
Based on my calendar I planned out my outfits.
The result?
You CAN style one single Abaya to create 30 outfits with ease from items you will have already. It's about thinking outside the box and understanding the role the Abaya is playing in your outfit on the day.
If I do not plan to remove my Abaya say whilst I'm out for Lunch in essence I treated it as a dress therefore I wore a thin top and leggings (or jeggings) underneath. What you guys wear is obviously up to you.
I will be posting 30 looks in 30 days for you guys to look at and comment/like/talk about.
Not all looks are suitable for everyone and I acknowledge that. My wardrobe has to be flexible to deal with my varied life.
If you don't own a Batwing Abaya and wish to purchase one they retail for around £20.00. And yes, I do have them in a range of colours. I love them.
Now let's get down to business.
Day one of challenge
Plans: out for Lunch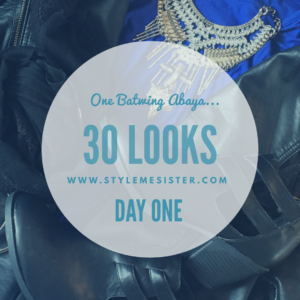 I love a bit of bling and I'm also a secret Hijabi biker chick.
My outfit contained:
Batwing Abaya
Gold and silver statement necklace
Black lace hijab (to soften the look)
'Cut out' ankle biker boots.
Faux leather black biker jacket
Could easily go shopping, for an evening meal or on a day trip in this as it was comfortable.
Day two coming your way tomorrow.
Don't forget to like and share and leave a comment below with feedback.