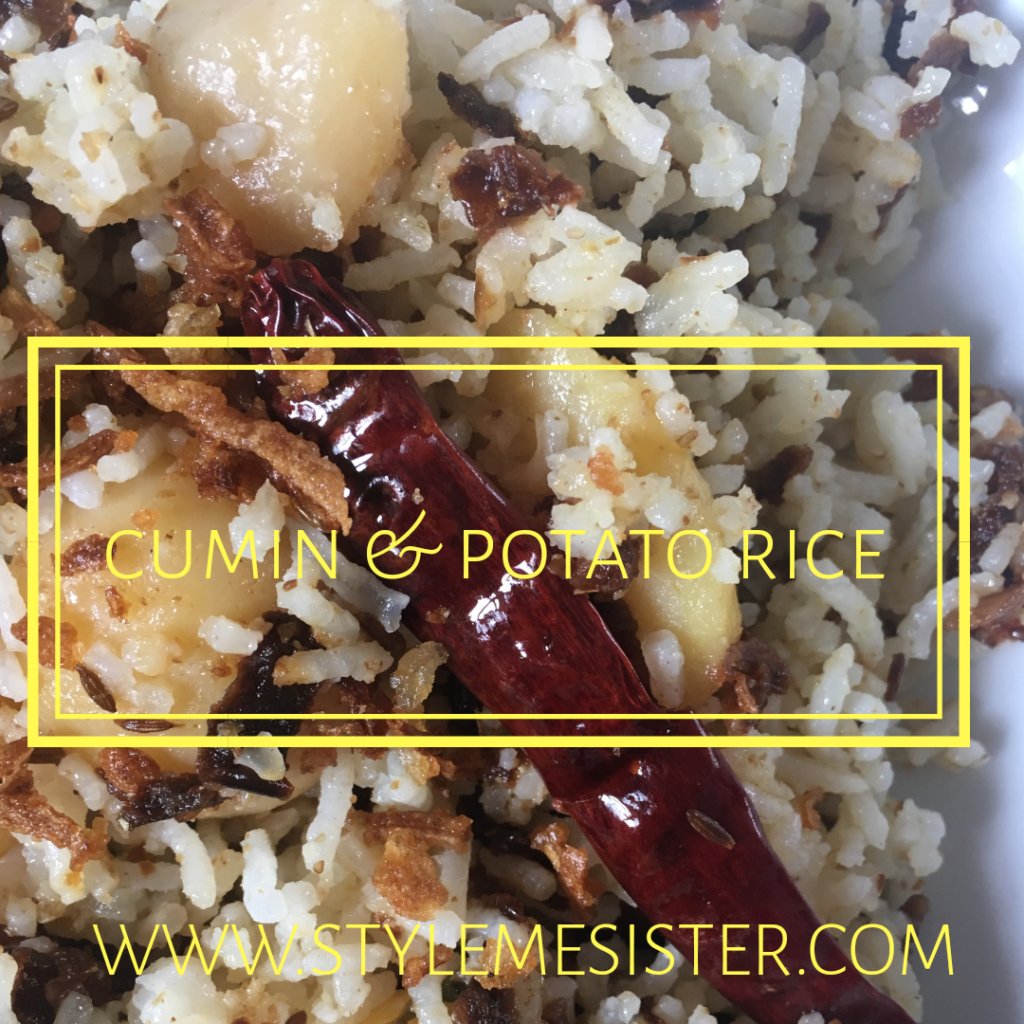 Meat free Monday
My pimped up leftover Rice (using store cupboard ingredients)
Double carbs; everyone loves them but boy are they hard to get 'rid' of when it comes to excess weight.
I use rice quite a bit….and can sometimes cook too much rice. Well apart from serving it with daals or using them in a rice bowl or salad what else can I do with it?
A few days ago I had a bit of a 'OMG that will work' moment. As a rule I don't serve double carbs (but remember from my childhood being served Mashed Potatoes and Chips in the same meal) however in this recipe it works! Just trust me.
So when you have leftover rice, a tin of potatoes, some cumin seeds and a pack of fried onions you end up with this recipe (which also works well with a fried egg on top if you have any around).
This recipe in my opinion can be served for a Brunch, Lunch or even Supper. It's quick and easy and uses up leftover rice. And with a dollop of yogurt or a fried egg it's got a big personality in a bowl.
To make two big bowls of my Pimped up double carbs sorry-not-sorry Rice you will need:
2 bowls pre-cooked Rice (mine were Basmati)
2 TBSP oil
2 heaped TBSP fried onions soaked in water and drained
1 heaped TBSP garlic paste
1 TBSP cumin seeds (whole)
1 heaped TBSP ground coriander seeds
1/2 TSP chili powder (for a spicier rice go up to 1 TSP)
Cooking salt-to your own requirements
Additional stuff:
2 eggs-fried
Additonal fried onions (not soaked)
1 lemon cut in half
Chili sauce-to drizzle over
1) Heat the oil in a large wok or similar pan on a medium heat.
2) Add the cumin seeds and allow to splutter.
3) Add the onions and fry for 1 minute. Keep stirring to avoid sticking/burning them.
4) Add the garlic paste and fry for 30 seconds.
5) Add the potatoes and fry for 3 minutes stirring so things don't burn.
6) Add the salt and spices and fry for one minute.
7) Add the rice and stir/turn the rice to coat it in the spicy onion mix.
8) Tip into two bowls and serve.
Additional ingredients are a suggestion only.
Apply to face/stuff your face and enjoy.