Meat Free Mondays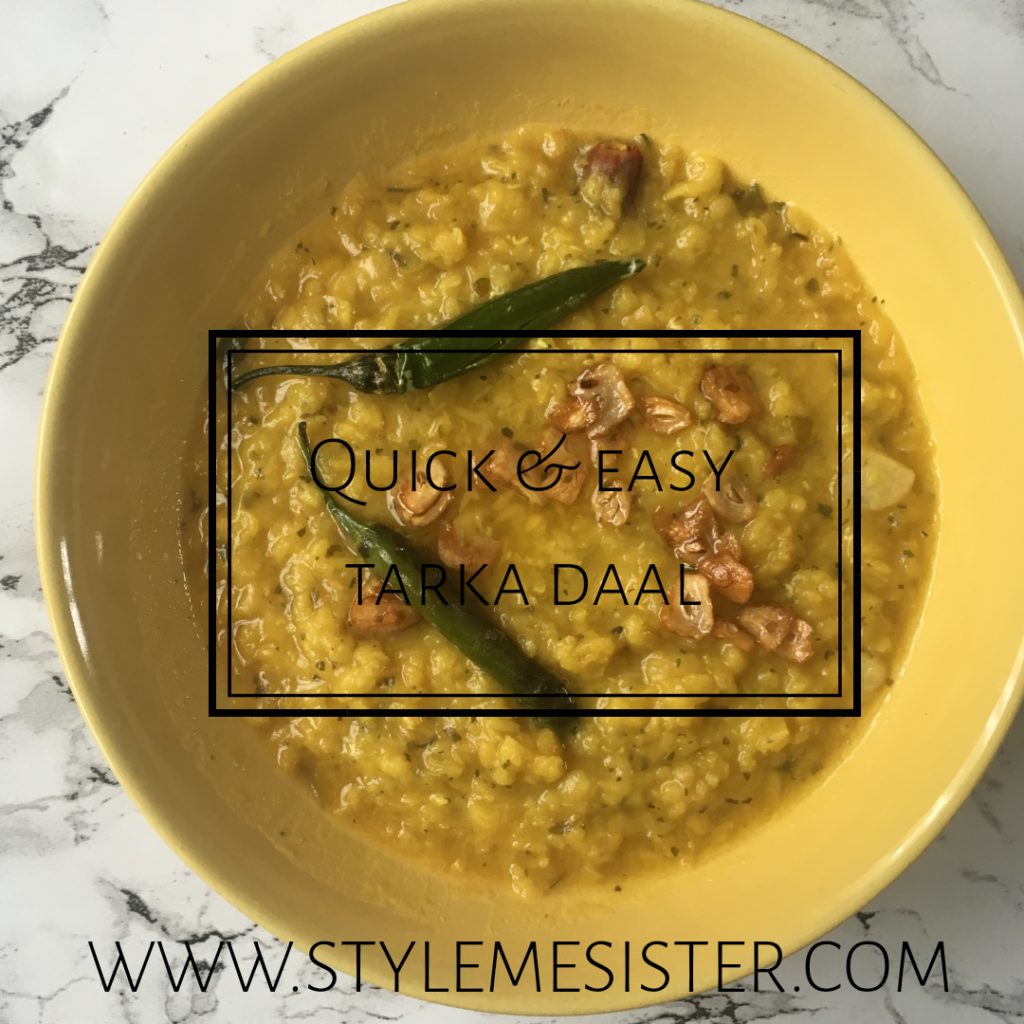 I've always naturally leaned towards vegetarian food. Perhaps the fact I love lentils a tad bit too much for a lot of people's liking is the reason I love a good vegetarian curry.
I love a good curry. None of this paste/out of a pack business (I'm Asian so….) it's from fresh and needs to be cooked to perfection.
Since I was a child Tarka Daal has been my comfort food. Over the years I tried pimping it up however I always resort back to the basic, original homely edition.
My plate of daal usually contains more daal than rice (I've reduced carbs in my daily diet) plus pickles and freshly sliced red onions dressed in lemon. And that's it. No fancy garam masala. No fancy business. It's good old fashioned food like my late Nana and Grandmother would have made.
This daal cooks super quickly. If I pre-soak the lentils it takes 15-20 minutes. If I don't it takes about 25 minutes. If I know I'm making daal I do tend to soak them before hand. Its not essential. Whilst the daal is cooking I tend to cook the rice (basmati folks; rules are rules in my house).
So what is Tarka Daal. Well Tarka just means tempering. In this case we use oil, garli and chilies. For some other recipes you may find mustard seeds, curry leaves, ginger, tomatoes and other wonderful ingredients too. But this is a simple, filling and amazing recipe that literally is a few ingredients.
Daal is the hindi/urdu for lentils.
It's really that simple….the recipe is Tempered Split Red Lentils.
Tarka daal freezes well and if you really are one of those people that like to cook once a week you could freeze portions of daal with rice to have a ready meal on hand.
There's method to my madness (How I calculate the volume of liquid for my daal)
I 'measure' by volume (e.g. place the lentils in a glass) and then double the amount of liquid. It's that simple. So if I cook say one large mug of lentils I add 2 large mugs of water. And this gives me a thick daal. I do like thick daals and also eat it like a soup (minus the rice). Low in carb, highly filling and so good. I find the fragrance warm and earthy so I feel you could easily take a mug of this to work and 'not offend' the less adventurous people.
If you do decide to consume the daal as a soup consider a good squeeze of lemon as a garnish.
To make 4 big bowls of Tarka Daal you will need:
1 glass red lentils (approximately 250 grams) washed
2 glasses water (approximately 500-550 ml)
Cooking salt-to your on taste
1 level TBSP Chili Powder
1 TSP Turmeric (haldi)-for a more earthy taste use more. For a less earthy taste reduce the amount. I love the golden colour it gives and Turmeric is a wonder spice.
OPTIONAL: 1-2 dried red chilies (I like a hot daal)
2 TBSP fresh coriander-including stalks chopped finely
Tempering aka Tarka
3 TSBP oil (I've successfully used Rapeseed oil, sunflower oil, vegetable oil and olive oil).
4 cloves of garlic sliced thinly (I would use more but if I am going to serve the daal to someone I generally have a rule of 1 clove to 1 bowl. But if you love garlic and are eating alone you can go up to 6 cloves for the recipe).
3 green chilies slit (or prick them well all over so they don't explode
1) Wash the lentils until the water runs clear. You can use the water to water your plants.
2) Place the lentils in a large pot and add the salt and spices followed by the water.
3) Place on a medium heat and bring to the boil. I usually leave a wooden spoon in my pot as I believe it stops the pan from boiling over. Once the lentils come up to the boil reduce the heat and remove the foam that you can now see floating on top of the lentils. You don't want that to be a part of the lentils.
4) Add the coriander, stir and simmer. I stir a few times throughout simmering and find it takes about 15 minutes post boil for lentils to become tender. Now if you are happy with the consistency turn the heat off. If you want it more runnier add a bit more boiling water (you don't want to bring down the lentils tempreture). If you want it a bit more thicker leave the heat on and allow it to simmer a bit more.
5) Heat the oil in a frying pan on a medium heat. Add the garlic and chilies and reduce the heat to avoid burning anything. Stir well (and turn the chilies over). You only want the garlic to be golden NOT burnt so once the garlic is turning golden kill the heat.
6) Pour the tempering over the lentils. Job done.
7) Serve the daal as is, or with rice, roti….or however takes your fancy.
Enjoy.
Additional notes:
you can 'flavour' the daal with vegetable stock if you wish to serve it as a soup.
Tarka Daal can be frozen….why not freeze up portions with rice for a quick freezer meal?