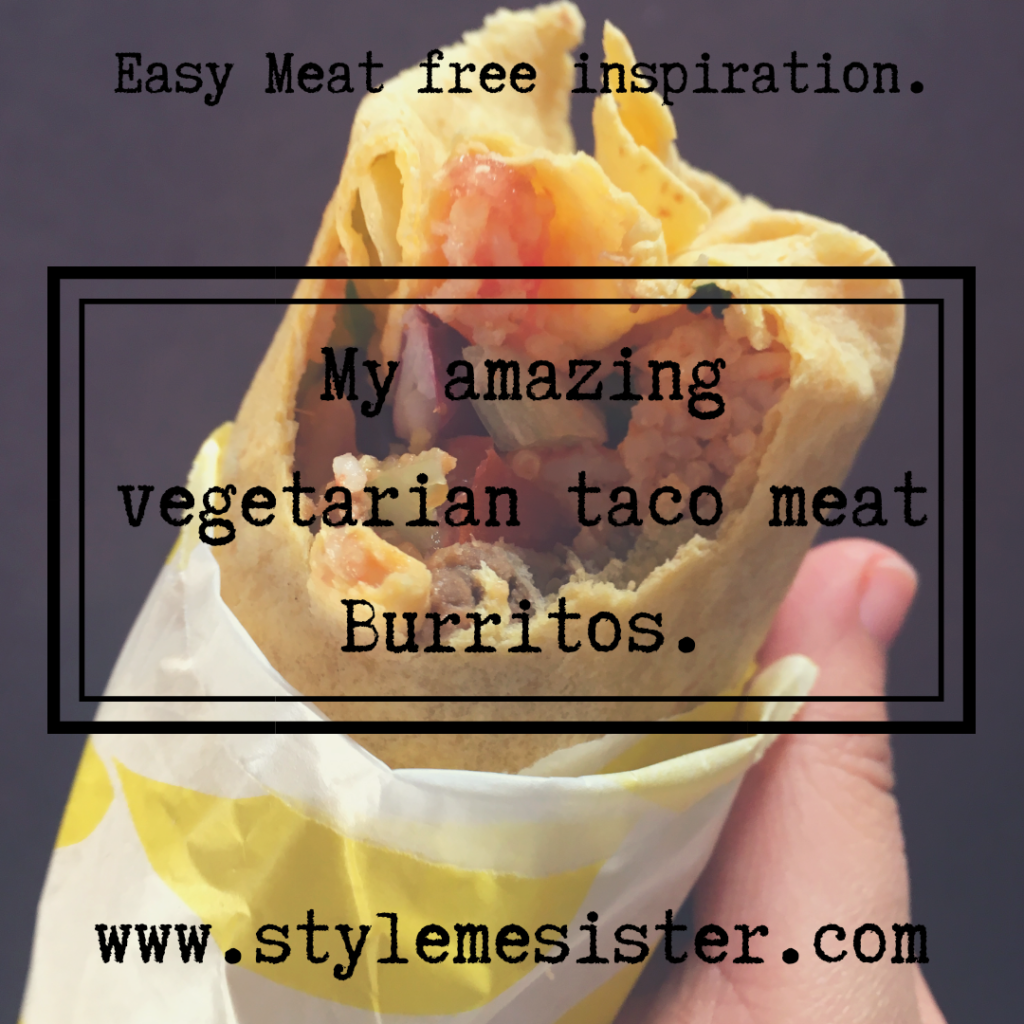 Over the past two years I've grown to love the idea of meat free meal days. Once upon a time I dreaded the idea of finding a vegetable based recipe that wasn't coated in fat and spices to cover the fact there's no meat in it.
Nowadays for me it's no longer a challenge. Possibly because I have found that I simply need to adapt the meat element to be replaced by a non meat product.
There's plenty of non-meat alternatives available in the UK. I personally love Morrisons own brand Vegetarian Mince from their Taste range for things like Spaghetti Bolognese (400 grams for £1.50 and no they have not paid me to compliment them).
Most Superstores have their own ranges however some famous brands include Quorn and Lindy McCartney. Considering how many more mouths we will need to be feeding in the future and how much farm land we actually have I've got to be honest with you; I feel we should all be looking into alternative proteins.
Anyhow….back to the recipe.
I love Burritos! I do. I reallllly do. However I find good ones hard to come by. So I literally created my own at home.
These Burritos contain:
My awesome vegetarian taco meat (recipe here)
My Tex Mex Inspired Burrito Rice (recipe here)
Plus a flurry of other ingredients that pack a punch.
To make 4 Burritos you will need:
1 lot of Vegetarian Taco Meat (heated)
1 lot of Burrito Rice (heated)
4 large Tortilla Wraps (I use corn ones)
1 large red onion diced finely
80 grams of Sweetcorn (cooked)
50 grams Cheddar Cheese (grated)
4 TBSP Salsa
4 TBSP Sliced Jalapeno
1 large tomato deseeded and finely chopped
Optional :Hot Sauce
To serve:
Skewers/tooth picks (optional but I find they come in useful to keep things in place)
Burger wraps (I used colourful ones but that's all I have in)
Tortilla chips
Salsa
Sour cream
The HOW TO:
1)Take a Tortilla Wrapper and gently warm it in the Microwave (10 seconds) or in a dry frying pan. Turn over to avoid it burning. Remove from the pan and place on a chopping board or large plate.
2) Now place the taco meat on the wrap. Spread it in a 'line' vertically. We need to pile up the ingredients in a 'line' as we need to wrap these badboys up as tight as possible.
3) Now add some rice.
4) Add the Jalepenos, Sweetcorn, Onions, Tomatoes and Cheese.
5) Drizzle on the Salsa and Hot Sauce (if using).
6) Now is the hard bit. It may take some practice but its worth it. Trust me. Fold the horizontal sides in. Now gently start rolling the Burrito trying to tuck everything in. Don't speed this step up because things will fall to pieces; literally.
7) Once it's all rolled up take the burger wrapper (or greaseproof paper if using) and wrap it tightly around the Burrito. Add a tooth pick if you feel it needs one. Just let people know there's one there so they don't hurt themselves on it.
8) Your Burrito is ready to serve. I serve mine with extra Salsa, Tortilla Chips and Sour Cream.